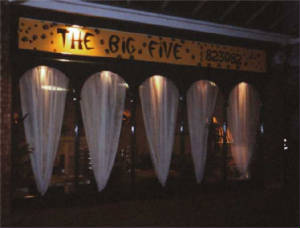 New! Come and Try! Newydd! Dod a Trio!
The Big Five opened it's doors late last year. It is owned by Mr. and Mrs. Venter from Llandrindod Wells. Formly, the spinning wheel, it was an ordinary cafe but now it's better. It has developed into Llandrindod Wells' only steak house.
Roedd y Pump Fawr yn agor yn blwyddyn diweddaf. Mae Mr. a Mrs. Venter yn bwy yn Llnadrindod. Roedd y pump fawr yn cafe, the spinning wheel ond, nawr, mae'n well! Mae'r 'steakhouse' unig yn Llandrindod.
During the day, it offers a wide range of meals, sandwiches, jacket potatoes, toasties, salads and much more (see our menu). During the evening time, Friday and Saturday nights it is transformed into a wonderful restuarant.
Yn y dydd, maee lawer o sandwich, tatws pob, ac ati (gwelwch ein bwydlen). Yn y noson, nos gwener a sadwrn, mae'n bwyty fendigedig!
The owners and their family are originally from South Africa. They have brought a little sunshine into this mid-wales town. Although the theme of South Africa is apparant, the food is what you would like to find (good old fasioned sirloin steak and chips).
Daeth y Venter teulu o africa de. Roedden nhw'n hwyl yna, yn hynny tref fach. Y bwyd ydy fantastig!
The restaurant itself is a smoke free enviroment with a capacity of 60+. It has toilets with baby changing facilities and is located in the very town centre. It has great hospitality, you will enjoy yourself. It is suitable for the whole family as it offers a specialist child's menu.
Yn y bwyty, mae'n dim ysmygu gyda 60+. Mae toiledu gyda newid baban. Mae llawer o dewis o'r teulu achos y bwydlan plant. Byddwch chi'n mwynhau y lle a y bwyd!

Unit 5
Spa Center
Llandrindod Wells
Powys
(+44) 01597 823082